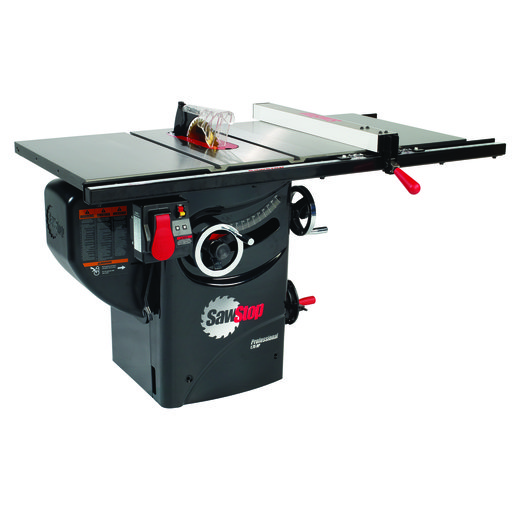 You may have heard of the number one table saw in America. If you haven't, let us introduce you right now.
In the United States, there is an injury every nine minutes related to a table saw, and ten amputations are performed each day related to table saws.
Table saw injuries result in extreme pain and trauma, loss of income-earning abilities, loss of ability to pursue a hobby, and regret for a lifetime.
Founded in 1999, SawStop is an American-owned company. Each table saw is engineered at SawStop headquarters located just south of Portland, Oregon. Today, SawStop table saws are protecting nearly 100,000 woodworkers in North America and around the world.
SawStop's famous hotdog demonstration is used across the country to show the impressive response time and safety of the table saw.
SawStop's system can be broken into four phases.
One: Detect
On skin contact, an electrical signal on the blade changes because the human body is conductive.
The saw detects that change, which triggers the safety system.
Two: Stop
An aluminum brake spring pushes a brake into the blade, stopping the blade in under five milliseconds.
Three: Drop
The blade's angular momentum drives it beneath the table, removing the threat of contact. Power to the motor is shut off.
Four: Reset
SawStop's 90-second reset keeps you moving and your production time on schedule.
Using SawStop
Gloves are not recommended when using SawStop. The glove can snag on the blade. In the case of SawStop, a glove's interference can prevent the machine from its intended purpose.
SawStop works in any environment., including humid weather.
Safety is no accident. Call us at (573) 893-2836 or visit us at 5927 Bus. Hwy 50 W in Jefferson City to talk through how SawStop could fit your needs.
Related Posts