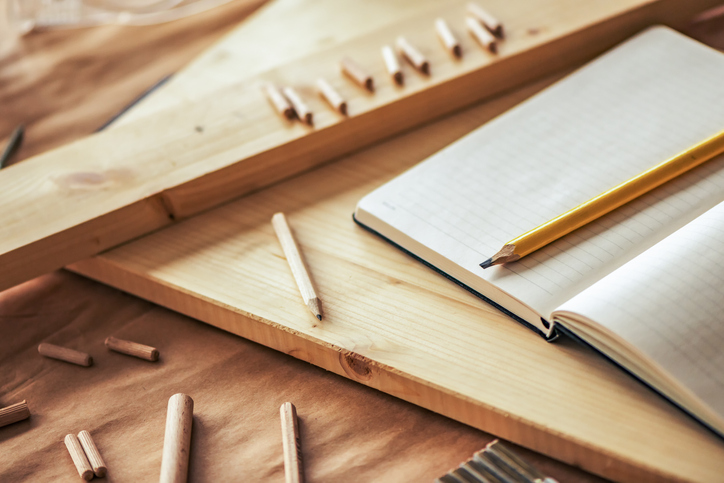 A woodworking project begins with the right selection of wood. Choosing the correct grain and quality of wood is as important for your project as having the proper tools.
First, consider what you want to make and the purpose it will have. Are you creating furniture or a cutting board?
Second, consider your budget. It is better to postpone a project in order to raise the needed funds than to substitute with lesser products.
Wondering Which Wood to Use?
We've selected three of our favorite domestic woods and broken them down by their temperaments and what they are best used for.
Maple:
Maple is a hardwood that is available in two subcategories: hard and soft. Both are durable and stable, and will finish well. However, hard maple can take more abuse, and will ultimately outlast its soft cousin.
Soft maple is available in a color variety of white to reddish color. Hard maple is available in a white to brown color.
We suggest that beginner woodworkers start with soft maple because hard maple is more difficult to work with, not to mention more expensive. Soft maple is more likely to be accept stains compared to hard maple, therefore soft maple will come out closer to your original concept.
Birch:
For almost a century, birch has been a hot item for furniture and cabinetry. Birch is available in a light brown to red color, and its often wavy patterns give it a desirable appearance. This affordable wood is great for higher end projects.
Even though birch is a hardwood, it works well with machines and is easy to sand due to its fine texture and straight grain.
Poplar:
While poplar is one of the softest hardwoods, it's highly versatile. White, yellow, brown, or even green poplar are great options for smaller projects. While poplar is not known for its durability, it performs well for structural applications. Its subtle texture makes it one of the most painted woods and easy to stain.
Whether you're a pro or hobbyist, if you use wood from Cardwell Hardwoods for your project, please share it with us on Facebook! We love seeing what our customers are creating. Inspiration can be just a click away.
Related Posts